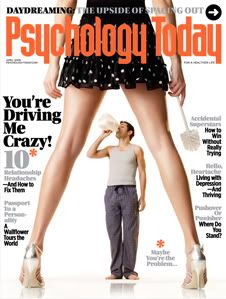 Behold, the cover for the March – April 2009 Psychology Today.
Sorry, I thought this was "Psychology Today," not "Toilet Cleaning Sex Kittens of Suburbia."
I realize that sexy images increase sales. However, reducing the woman to a pair of spread legs in a short skirt and stillettos (and toilet brush! because nothing makes me feel sexy like cleaning the toilet dressed as a sexed-up June Cleaver) seems excessive. Way to be classy, Psychology Today.
If you get a chance, contact the magazine and let them know they crossed a line with this cover.