A SYTYCB entry
The games are over and the 2012 Olympics have officially closed. The opening ceremony didn't hold a flame to the Beijing ones but with this already in mind, Danny Boyle did his best and applied his vision and the result was pleasant and entertaining. For me, however, it wasn't the grandiosity of the ceremonies, larger than life Voldemort, or the Spice Girls reunion that was the most memorable, it was instead the brilliant and wonderful representation of  diversity and the no bullshit attitude that truly made this a global event for me.
The 2012 Olympics showcased a great amalgamation of faces and races; after constantly being exposed to the United States' white-washed media, it was refreshing to see on-air diversity that even ranged from gay couples to  interracial couples (having just returned from London myself I must say that I was surprised to see the number of interracial couples and mixed race children in the city. While I doubt this is the case all over England, it was amazing to see nonetheless). The ceremony also incorporated South Asians, East Asians, and Africans. In fact, they even played some bhangra (Punjabi music).
The Olympic Committee adopted a zero tolerance policy when it came to racism.
Swiss soccer player, Michel Morganella, was ejected from the games for a racist tweet directed at Koreans. According to the Huffington Post, "He posted the message after playing in the 2-1 loss against South Korea on Sunday. He said in the tweet that South Koreans "can go burn" and referred to them as a "bunch of mongoloids."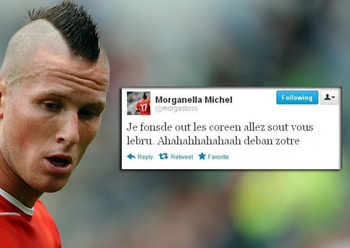 Greeck triple jumper Voula Papachristou was also expelled from the games because of a tweet which saaid "With so many Africans in Greece… At least the West Nile mosquitoes will eat home made food!!!"
Germany's Nadja Drygalla left on her own accord after her ties to neo-Nazi groups surfaced. While I'm not sure I agree with this particular case since the Olympian herself did not appear to belong to such groups, this continues to demonstrate how strongly the Olympic committee felt about prejudice and racism.
While everything mentioned above already made the 2012 Olympics great, Muhammad Wajid Akhter explains why these games were slightly different in nature from what we're used to:
..in a day and age when other countries are tripping over themselves to ban halal food, circumcision, the hijab, niqab and almost anything else associated with our faith, the London 2012 Olympics made a welcome change.
Over the past decade being Muslim, hell being Brown-skinned in general, has become a social taboo if not a perceived sin. In the past few weeks alone the American South East Asian community has been devastated by domestic terrorist attacks over and over again. From massacring Sikh's and arson attacks on mosques, to firebombings, racist advertising campaigns, and horrific acts of defacement– being brown and/or Muslim in America has become increasingly dangerous. While the two terms aren't interchangeable, the average ignorant and racist American makes little attempt to differentiate between the two. There has been an acid attack against Muslims in Illinois (yup, you read that right) and pig carcasses thrown at mosques. So while all this has been going on here, the warm, welcoming, and accommodating feel of the Olympics in London was a breath of fresh air.
Defacing a Muslim cemetery. Click here to view more photos.
To begin with, there was no hoopla at the Olympics this year about head coverings and the clothing that Muslim Olympians chose to wear. Furthermore there was a visible Muslim presence at the games from volunteers to athletes. And finally, since the games were taking place during the holy month of Ramadan where Muslims fast without food and water from sun up to sun down, the Olympic Village was open all night to accommodate for the needs of those who were fasting. Let's also not forget the many Muslim women that participated at Olympians and that Saudi Arabia sent its first female athlete this year.
As I've demonstrated above, we live in a hateful time. A time when discriminating against gays is championed, young musicians are slandered for being Muslim while their adult Christian counterparts are applaud for flaunting their religion. South Asian folks are sent anonymous hate mail and are ignorantly threatened while others attempt to intimidate in different ways. I'm afraid of where the United States is heading with its radical and exclusionary views on race, sexual orientation, and religion. It breaks my heart when I see some misguided soul I'm acquainted with post a status on Facebook that says "MMMMM, chikin for breakfast!" and then adds a link to the notorious "Appreciation Day". We continue to live in a time when discrimination and prejudice is confused for freedom of speech, when people continue to ignore facts and manufacture their own misinformation to mislead, when prejudice is fueled and often excused by religion, and when it has become increasingly okay to target others based on the color of their skin. Keeping all this in mind, as a woman of color, the 2012 Olympics really warmed my heart. It's nice to know that at least in some arenas hate isn't tolerated and the accepted norm.