A friend of mine recently tuned me in to a list of the 50 Most Badass Movie Characters of All Time (click here for the original list).  Out of those 50 characters, 3 of them were women, and 6 of them were people of color.
An incredibly avid fan of people who generally kick ass on television and in movies, I decided to compile a list of the 20 female characters whom I believe kick ass the most.  The list is no particular order.
DISCLAIMER: you will find that my list tends to be highly hetero-normative; unfortunately my reference of kick-ass LGBTQI characters is enormously limited.  If you have any suggestions, comment!  Also, I am only putting women on this list who I am familiar with, and whose shows/movies I have watched (if anyone is wondering why there are gaping holes in my social repertoire).
1. LISBETH SALANDER – The Girl with the Dragon Tattoo
I chose to use Rooney Mara's depiction of the character because, in my view, her performance was closer to the book than Noomi Rapace's performance (though I do love Noomi Rapace).  Despite the many, MANY problems I have with Stieg Larsson's books, I highly appreciate his creating such an amazing female character.  Obviously, Lisbeth Salander is by no means "stable" as determined by any popular diagnostician, but despite the deeply traumatic past that must wreak havoc on her mental state, she remains one of the best examples of a vigilante fighting men who hate women.
2. MAKO MORI – Pacific Rim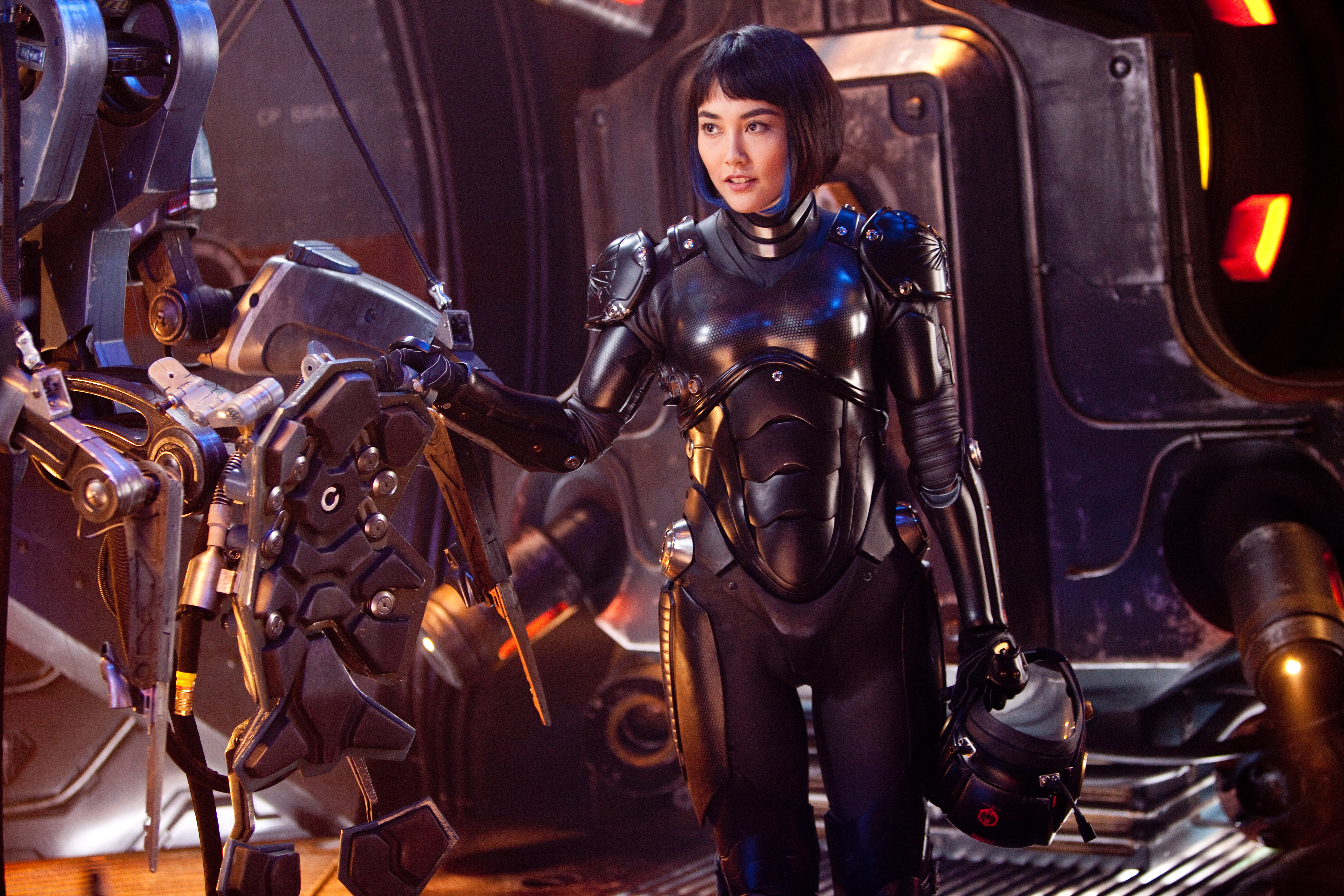 Any moments of cheesy tropes in Pacific Rim I ignored just by the fact that Mako's character was bad-ass AND not used as a point of romance for the story.  In fact, her emotional vulnerability proved as a bonding point to strengthen her friendship with Raliegh Becket as opposed to weakening it, based on the fact that she's an "irrational girl".
3. HIT GIRL – Kick Ass, Kick Ass 2
Look, I get it.  She's a child who says "cunt" and kills people.  There's some sort of problem there.  But she's also a girl who can slice a dude in half when he gets a little testy.  Furthermore, the insane identity crisis inflicted on her as a result of her father's obsessions is by no means excusable, but by every definition, Hit-Girl meets the requirements of someone "bad-ass".  More than physically capable and highly sardonic, she is one of my favorite super heroes.
4. SHOSHANNA DREYFUS – Inglorious Basterds
She was (in part) responsible for the death of Hitler, so…  Also, to be able to successfully pull off a chapter titled "Revenge of the Giant Face" (thanks, Tarantino) is pretty amazing.  She sacrificed herself for the rest of the world, despite the fact that she had managed to rebuild her life after losing her family at the hands of the Nazis.  Anybody who manages to wipe out a theater full of Nazis (though I will admit that the Basterds helped) counts as bad-ass for me.
5. SONMI 451 – Cloud Atlas
SONMI 451 is not only one of my favorite female characters on screen, but also one of my favorite characters in any book.  While the trajectory of her story is vastly different in the movie than in the book, her bad-assery remains relevant in her ability to relate martyrdom to a much larger picture of humanity.  Though (and this is much more explicit in the book) her efforts were largely wasted, she did not lose faith; she knew that one day, we'd get it right (spoiler: we have not yet got it right).
6. ARYA STARK – Game of Thrones
This character is so near and dear to me (and I'm assuming the rest of the Game of Thrones fans) that I honestly wouldn't be surprised if I named my daughter Arya one day.  Yet another example of a Stark child whose life is ruined by the power-hungry adults around her, Arya's only goal is to find her remaining family and survive.  Her dismissal of classic femininity may be what draws people to her so much, but her real power is in her ability to adapt so easily to her surroundings and survive.  She manages to hang around with all manner of bandits, and helps them so they can help her.
7. LESLIE KNOPE – Parks and Recreation
Leslie Knope does not know how to fight with her fists, nor is she particularly witty, but her character has put at the forefront of a majorly watched television series a strong, driven woman with goals as simple as color-coding the tabs in a binder about park benches to as big as eventually becoming the first female president and marrying Joe Biden.  The fact that Parks and Recreation centers on a character so turned on by current events and the world around her bodes well for women on television.  Also – it's a testament to Amy Poehler and the comedic women of our era, and the fact that it is becoming less and less cool to spout the idea that women "aren't funny".
8. YGRITTE – Game of Thrones
Despite there being far more bad-ass Ygritte moments in the books, the television series manages to capture enough of her power to satisfy me, and I am known to be highly picky about these issues.  In general, she tends to be one of the stronger portrayals of women over-all on screen; in her physical abilities, in her passionate emotional life, and in her sexuality.  As archaic as most of the societal rules are in Westeros, Ygitte was brought up in a highly sex-positive faction of the world, and that definitely shows.
9. BEVERLY KATZ – Hannibal
I have a lot of really positive opinions about Hannibal in regards to casting; not only did they turn multiple male characters from the book into women, but they hired lots of racially diverse actors.  Beverly Katz is SHARP, and she's a huge advocator for Will Graham in his upsetting descent into madness.  The only downside is that in focusing so much on the Will/Hannibal relationship (which is amazing), the show tends to downplay more minor characters like Beverly.  I have high hopes for the second season, though.
10. KATNISS EVERDEEN – The Hunger Games
Despite my inherent disapproval of whitewashing Katniss's character in the movie, I do love Jennifer Lawrence.  It is my dream at some point in my life to teach The Hunger Games as a story about a girl's narrative of survival, and not about a girl's love triangle with two boys who, in the end, relate to her only in the context of what the dystopia has done to fragment people against each other.  She tends to have higher priorities than the boys who are in love with her.
11. HERMIONE GRANGER – Harry Potter
Pretty much anything that Harry ever did was a credit to having a best friend who actually did her research.  J.K. Rowling also reported that after going back to complete her final year at Hogwarts, Hermione worked with Kingsley Shacklebolt to bring about policy change for non-wizard creatures like house elves, centaurs, etc.  It doesn't get much more bad-ass than that.
12. DEBRA MORGAN – Dexter
Here's my take on Deb – the fact that she managed to survive more trauma than any one human being physically or psychologically would be able to withstand is not necessarily a testament to her bad-assery, but more just bad writing.  I'm in the camp of 'Dexter-was-really-good-until-the-fifth-season', but that does not detract from what Deb is able to accomplish throughout the series.  Unlike her brother, she's a good cop for all of the NORMAL reasons – smart, intuitive, brave.  Plus, she coined the phrase "fuck puddle".  I like that.
13. SANSA STARK – Game of Thrones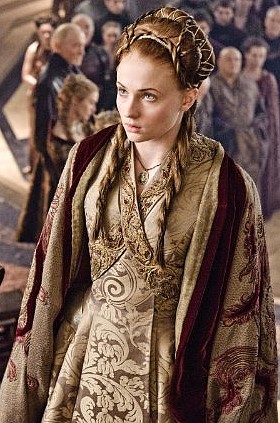 Buckle up, I have a lot of feelings about this one.  Any argument that Sansa is in any way weaker or less bad-ass than her sister makes me want to rip my hair out.  The fact that a 12 year old girl (she's 12 in the books, folks) gets excited about the prospect of a handsome, blonde prince does not take away from her self-actualization, and being able to maintain a sense of self during consistent brutality at the hands of the men and women around her is actually quite a bad-ass accomplishment.  Just because she doesn't dress like a boy and do boy-like things makes her no less of a bad-ass.  In addition, she is forced to marry a man who she believes is at least partially responsible for the death of nearly her entire family (though unbeknownst to her, he is actually her one and only ally), but she does it anyway because she knows that keeping her head down and playing the game is the only way she's going to survive.  So yeah.  Sansa's a bad-ass.
14. LIEUTENANT UHURA – Star Trek
One of my favorite things about Star Trek is that it imagines a future where adventure is about exploration and discovery, not conquest.  Now, I'm not a die-hard Trekkie, and I don't know as much about the series as I do others, but Lieutenant Uhura tends to get shit done.  And mad props to the woman who shared the first interracial kiss on television, and managed to fight and advocate for herself when racists wanted her off the air.
15. ZOE – Firefly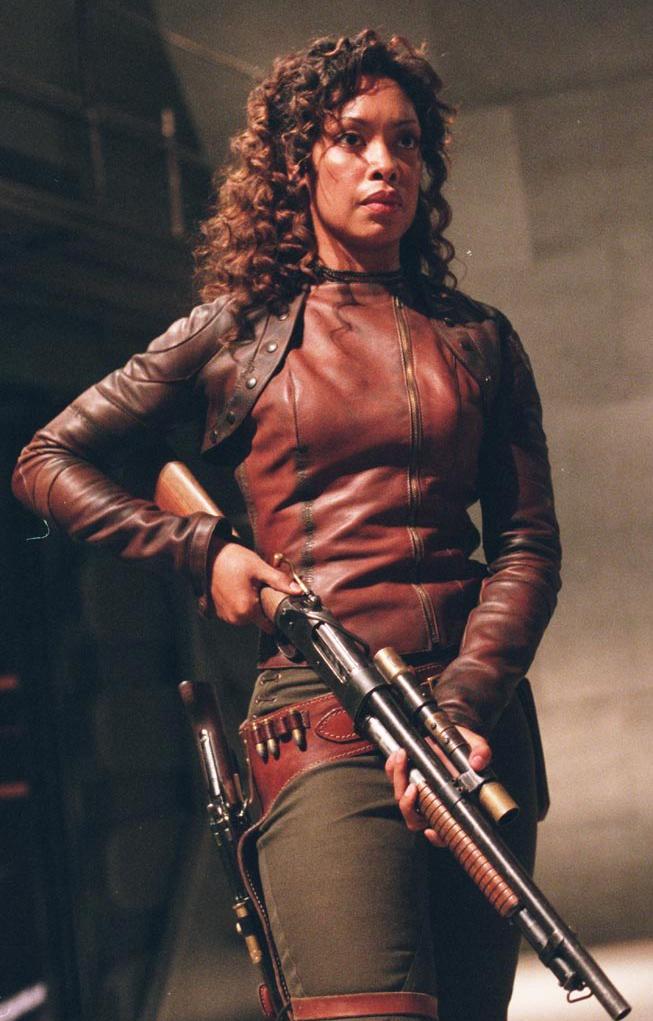 Part of the brilliance of Firefly is that each female character is absolutely a bad-ass in their own right, not just Zoe, who embodies more male "bad-ass" traits in carrying a gun and being the right-hand man of the captain.  That being said, not only does Zoe shoot bad guys, but she is also most likely one of the most emotionally grounded and loving people on that ship.  Her relationship with Wash does not keep her from doing her job effectively, nor is it a focal point of the series; being married to Wash is just another facet of her life, not a defining feature of her identity.
16. THE BLACK WIDOW – The Avengers
Despite Scarlett Johansson's overt over-sexualization in The Avengers, I am willing to make the case that the Black Widow is a bad-ass not just because she fits into that suit and can kill a man, but because she holds her own amongst big-headed men (sometimes literally, ha ha, the Hulk), and keeps up with their heroics – SANS SUPER-POWER.  She's just a pretty damn good fighter, and she's also smart enough to manipulate Loki in his manipulation.  It's also interesting that as soon as Joss Whedon took over directing (as opposed to Jon Favreau), Black Widow expanded past the bad-ass-girl-with-big-boobs-and-no-feelings trope and into a character with the potential of showing emotional vulnerability.
17. DAENERYS TARGARYEN – Game of Thrones
First of all, she has dragons.  And while I wouldn't necessarily put it past George R. R. Martin to kill her off (God forbid), I do believe that the dragons thing is kind of trump card at this point.  It isn't even as if she stumbled upon fun-loving dragons who took a fancy to her; she is actually the mother of dragons.  They could not have come back without her.  Further, she has enough political inclination to be able to successfully conquer cities and reclaim their slaves as free people.  There's a reason they call her 'mother'.  Westeros isn't ready.
18. KAYLEE – Firefly
Kaylee is actually one of my favorite ladies in a television series.  The fact that she's sweet and well-intentioned does not prevent her from telling people how she feels.  She's also a mechanic, a role most often filled with men.  If she wasn't so amazing at her job, Mal and the rest of them wouldn't be able to get anything done, whether that be legal or illegal.  In fact, the one episode where it looked very likely that all of them would die deep in space was a result of Mal having repeatedly ignoring Kaylee's alerts that the ship needed new parts.  Kaylee is a perfect example of a girl who can both be sweet and kick ass.
19. DONNA MEAGLE – Parks and Recreation
Donna is actually the only cool person in the Parks and Rec department.  Everyone else has issues – Leslie can be a nutcase, Tom is all talk and no game, Jerry is just awful, Andy is a child, and April is a child wearing a scowl.  Donna single-handedly saved the Parks department computer files from being lost forever when April deleted them, primarily because Donna knows people, knows that this could happen, and thus took preventative action and installed a back-up system.  She has all manner of male suitors, and knows what's important to her.  The fact that anything actually gets done in that department without her astounds me, for as much as Leslie likes to think she's what runs Parks and Recreation, Donna is actually in charge of getting the gears turning.
20. MICHONNE – The Walking Dead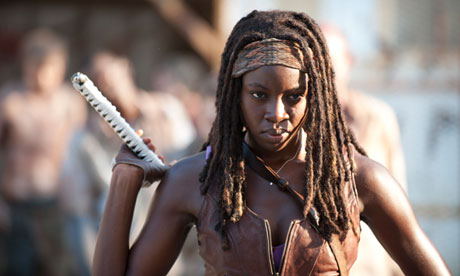 Zombies as pets.  ZOMBIES AS PETS.  Also, though not explicitly mentioned in the television series, in the comic books, it's widely known that those two pet zombies were her boyfriend and his friend.  To be able to maintain a level head, while physically carting around with you a reminder of what you've lost isn't something most people could do.  She's also not one of those idiots that solves the zombie issue with guns (I don't know why that never occurs to novices), and she figured out early on in the game that cutting off the jaws of the walkers was going to keep them from being in any way a threat.  Good thinking.
In general, though I do watch lots of movies and television with interesting, well-rounded female characters featured, this list was harder than I thought it was going to be.  I tried to stay away from female characters whose purpose was largely plot-related or romantic, and likewise, I refrained from listing Lara Croft from Tomb Raider because I wanted to feature ladies who weren't over-sexualized.  In any case, doing this has made me think long and hard about what constitutes a "bad-ass", and most of the time, being able to beat someone up doesn't tend to cut it for me.  My hope is that soon enough we will be able to make all-inclusive lists of bad-asses, and the proportions of male/female, white/POC, and straight/LGBTQI characters won't be so dramatically skewed.